December 2012
Dynamatic Technologies On Economic Times' List of India's 500 Biggest Companies
Dynamatic Technologies has been ranked 466 on the Economic Times 500 (ET 500) List - a list of India's 500 Biggest Companies published by the leading Indian Financial Daily, the Economic Times
The ET 500 List, which is one of the most comprehensive listings of India's leading Companies based on Sales Turnover, showcases the fastest growing companies in the country that have powered ahead despite the difficult business operations environment which was characterized by low levels of investment activity, low growth levels in private consumption, slowdown in revenue growth, higher interest costs & increased leverage.
view pdf


---
December 2012
Bell Helicopter Signs Agreement with Dynamatic Technologies Limited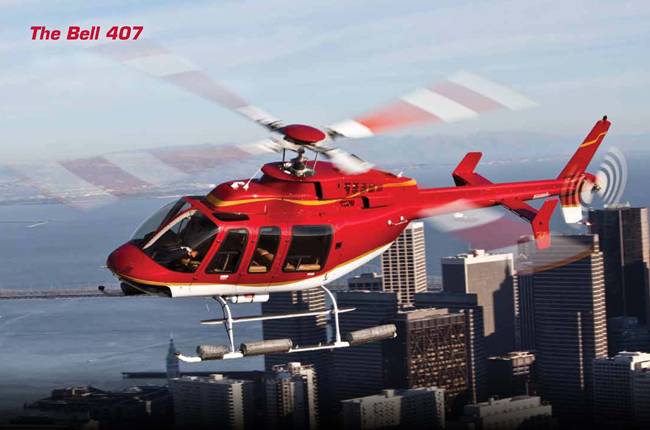 (Photo courtesy of BELL HELICOPTER)
Bell Helicopter, a Textron Inc. Company (NYSE: TXT), has signed a Memo of Understanding (MoU) with Dynamatic Technologies to explore establishing Dynamatic Technologies as a sub-contractor for its Bell 407 Air Frame Cabin Assembly, Air Frame Component and Details.
The estimated business volume of the work proposed is approximately $243 million USD over a ten year period starting in 2013.
"Bell Helicopter is very pleased to continue to invest in India," said Rishi Malhotra, Bell Helicopter's General Manager in India. "This is an important step forward in expanding our customer service, engineering and manufacturing capabilities in India."
"Bell Helicopter has had a presence in India for nearly 20 years," Malhotra continued "India represents a significant growth opportunity for both sales and manufacturing"
Dynamatic Technologies has already qualified itself as well as an eco-system of sub-tier suppliers under the BELL PRODUCTION SYSTEM and has commenced trial production of airframe components and detailed parts. Commercial Production which is scheduled to start shortly at the Company's Aeronautic Manufacturing facilities at Dynamatic Park Peenya, will be undertaken at Dynamatic Technologies Aerotropolis, Devanahalli, in the last quarter of 2013.
The MoU, which is an important milestone in India's rise as an Industrial Partner to the Global Aerospace Industry, will build upon Dynamatic's existing relationships with Airbus, Boeing, Spirit AeroSystems (Europe) Limited & Hindustan Aeronautics Limited and further strengthen its leadership position in the Indian Aerospace Industry.


---
May 2012
Gildemeister Group Chairman & Senior Executives visit Dynamatic Technologies
On 24th May, 2012, Dynamatic Technologies hosted a high level delegation from the Gildemeister Group headed by Dr. Rudigar Kapitza, Chairman of the Gildemeister Group, at its facilities in Bangalore. Dr. Kapitza was accompanied by his colleagues from the Gildemeister leadership team including Mr. Thorsten Schmidt, Member of the Board for Global Sales & Service, Gildemeister Group, Mr. Hanno Elbrachter, CEO Asia, Gildemeister Group, Mr. Klaus Wenker, MD, Key Account Management, DMG Vertriebs & Services GmbH, Dr. Maurice Eschweiler, MD, Key Account Management, DMG Vertriebs & Services GmbH, Mr. Ramisetti Sridhar, MD, DMG Moriseiki India and Mr. Sunil Rao, Key Account Management, DMG Vertriebs & Services GmbH.
Dr. Kapitza and the senior executives from the Gildemeister Team spent an interesting morning at Dynamatic Technologies Park, interacting with the Company's leadership team for a deeper understanding of the its business philosophy and capabilities.
Gildemeister is one of the world's leading producers of cutting machine tools, with a broad and diverse customer base spanning various geographies and industries. The visit provided both companies with the opportunity to better understand each other's competences and further strengthen their partnership by evaluating opportunities for further cooperation.


Dynamatic Technologies Team with Dr. Rudigar Kapitza, Chairman of the Gildemeister Group and Senior Executives from the Gildemeister Team at Dynamatic Technologies Park